Witness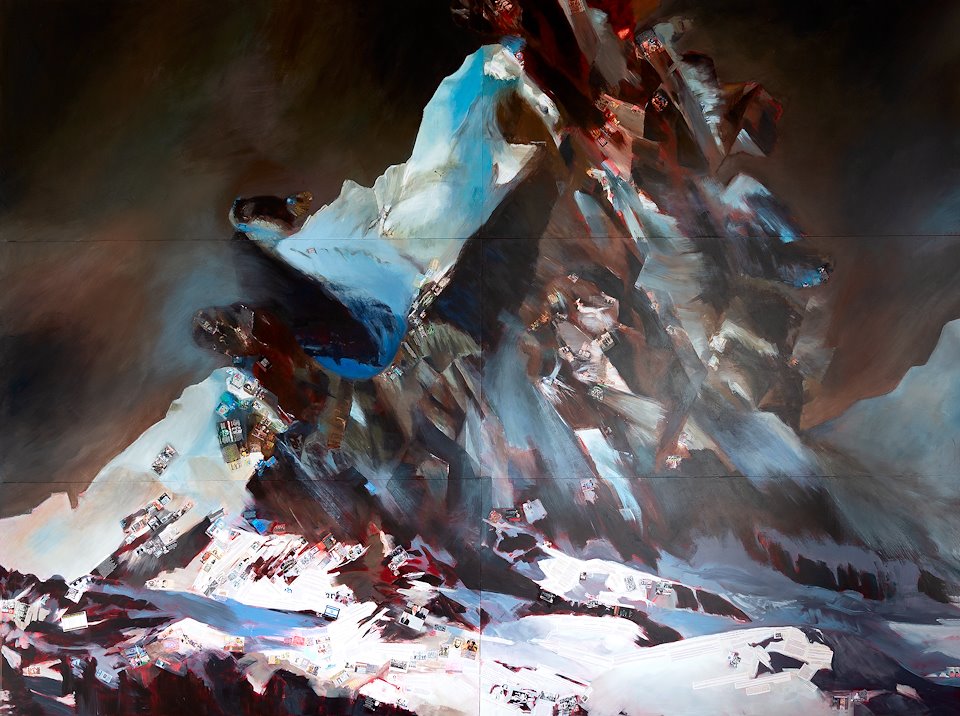 Acrylic, acrylic medium and paper on plywood
Addressing the current epidemic of antisemitism within British society has become urgent, with antisemitic incidents and hate crimes at an all-time high. David Delew, Chief Executive of the Community Security Trust, has said: 'Hatred is rising and Jewish people are suffering as a result. This should concern everybody because it shows anger and division that threaten all of society'.
Nearly three metres tall, this work stands as witness to an ancient hatred morphing into a modern intolerance. While its intention is to encourage deeper thinking and conversation, its scale speaks of the epic nature of the challenge. The first in a series on antisemitism, its message is both personal and universal – a timeless, important reminder of our collective responsibility to fight and overcome the ugliest of our human impulses.
Viewed close-up, the tiny pieces collaged into the painting are disturbing. Sourced largely from social media, they contain examples of every kind of antisemitism defined by the International Holocaust Remembrance Alliance (IHRA), both historical and contemporary. While far-right Jew hate is instantly recognisable, antizionist types of antisemitism remain contentious, not least because of the lack of understanding around the IHRA definition and its implications for the human rights movement as a whole.
The societal and collaborative quality of the piece is reflected in its very construction. The source material was contributed by various people of all faiths and political persuasions, and a space for the artwork to be completed was found via the passionate efforts of an interfaith, and hitherto unconnected, group of people in Bristol and Bath.
In order to address racism, I believe that it is first necessary to face it with courage: we must start by looking in the mirror, as imperfect human beings called to do continuous and active work. Denial is our enemy, and I hope to encourage the viewer to confront that enemy head on.
Mina Kupfermann, 2019
2nd Prize Winner of the Emma Lazarus Art Award 2020: see https://combatantisemitism.org/special-features/witness/?fbclid=IwAR2i5vZe9tQk5OqPjck4OUenhv2Rp0EW-q8X3oTi0YeSBSHUfzSlNU9NGpY
Witness was shown on 11th November 2019 at JW3, London at the event: ANTISEMITISM: FROM RECENT PAST TO UNKNOWN FUTURE, marking the 81st anniversary of Kristallnacht.
A short film about Witness: https://www.youtube.com/watch?v=PwJ5Ud32GEA&feature=youtu.be
Up Next:
Suzette, Ripley and Pom